Welcome to our self-catering hotel, where we cater to the needs of independent travelers seeking the freedom and flexibility to explore at their own pace. Whether you're embarking on a solo adventure or traveling with a group of friends, our hotel is designed to provide a comfortable and convenient base for your self-guided exploration. Allow us to introduce you to the features and services that make our hotel the perfect choice for your independent travel needs.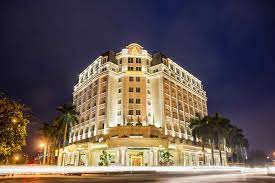 Spacious and Well-Equipped Accommodations: Our hotel offers spacious and well-equipped accommodations that are perfect for self-catering travelers. Each room or suite is designed to provide a comfortable and homely atmosphere, with amenities such as a fully equipped kitchenette or kitchen, allowing you to prepare your own meals and snacks. Enjoy the freedom to dine in and savor local flavors at your own convenience.
Central Location: Our hotel is ideally located in the heart of [destination], offering easy access to popular attractions, transportation hubs, and vibrant neighborhoods. Whether you're interested in exploring historical landmarks, immersing yourself in the local culture, or indulging in shopping and dining experiences, our central location ensures that you're never far from the action.
Traveler-Focused Facilities: We understand the needs of independent travelers, and our hotel provides a range of facilities designed to enhance your travel experience. Take advantage of our common areas, such as lounges or rooftop terraces, where you can relax, socialize, and share stories with fellow travelers. We also offer amenities like laundry facilities, luggage storage, and concierge services to make your stay as convenient and comfortable as possible.
Local Recommendations and Assistance: Our friendly staff is here to assist you with local recommendations, insider tips, and guidance to help you make the most of your independent travel experience. Whether you're looking for off-the-beaten-path attractions, hidden gems, or local events, we are here to ensure that you have an authentic and enriching journey.
Flexibility and Freedom: As an independent traveler, you value flexibility and freedom in your travel plans. Our self-catering hotel allows you to set your own schedule, explore at your own pace, and make spontaneous decisions based on your interests and preferences. Enjoy the freedom to create your own itinerary and immerse yourself in the destination on your terms.
Affordable and Cost-Effective: We understand the importance of budget-friendly travel options. Our self-catering hotel offers competitive rates, allowing you to make the most of your travel budget. By having the ability to prepare your own meals, you can save on dining expenses and allocate your funds towards other aspects of your travel experience.
Comfort and Privacy: We prioritize your comfort and privacy during your stay. Our well-appointed accommodations provide a cozy and private retreat after a day of exploration. Relax in comfortable beds, enjoy modern amenities, and recharge for your next adventure.
Choose our self-catering hotel for your next independent travel experience and enjoy the freedom, flexibility, and convenience that it offers. With our spacious accommodations, central location, traveler-focused facilities, and friendly assistance, we are committed to providing you with a comfortable and enriching stay. Book your stay with us and embark on a memorable journey of self-discovery. Welcome to your home away from home.