When planning a trip, one of the most important decisions you'll make is choosing the right hotel. The hotel you select can greatly impact your overall travel experience, so it's essential to consider several factors before making a reservation. Here are some tips to help you select a hotel that suits your needs and preferences.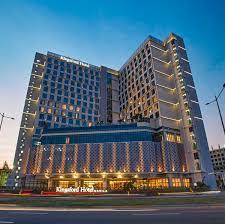 Location: The first thing to consider is the hotel's location. Determine whether you want to stay in the heart of the city or in a more tranquil area. If you're traveling for business, a hotel close to the convention center or major business districts might be ideal. On the other hand, if you're on vacation, you might prefer a hotel near popular attractions or a peaceful beachfront.
Budget: Set a budget for your accommodation and stick to it. Consider how much you're willing to spend per night and search for hotels within that price range. Keep in mind that prices can vary depending on the location, amenities, and time of year. Look for deals or discounts that might be available to help you save money without compromising on quality.
Amenities: Think about the amenities that are important to you. Do you need a fitness center, swimming pool, or spa? Are you traveling with children and require a kid-friendly hotel with activities for them? Consider your preferences and make a list of the amenities that are essential to your stay. Check hotel websites or contact them directly to ensure they offer the facilities you desire.
Reviews and Ratings: Before booking a hotel, read reviews from previous guests. Websites like TripAdvisor or Booking.com provide valuable insights into other travelers' experiences. Pay attention to both positive and negative reviews to get a balanced understanding of the hotel. Look for consistent feedback regarding cleanliness, service quality, and overall customer satisfaction.
Accessibility: If you're traveling by public transportation or need easy access to the airport, consider a hotel with convenient transportation options nearby. Check if the hotel provides shuttle services or has a taxi stand nearby. Additionally, if you have any specific mobility needs, ensure that the hotel is equipped with ramps, elevators, or other accessibility features.
Safety and Security: It's essential to prioritize your safety during your stay. Look for hotels with secure entrances, well-lit public areas, and 24-hour front desk services. Read about the hotel's safety measures and protocols to ensure they meet your expectations. It's also a good idea to check if the hotel has any security features like in-room safes or security guards.
Flexibility: Consider the hotel's policies regarding cancellations, changes, and refunds. Unexpected situations can arise, and having flexible booking options can give you peace of mind. Look for hotels with favorable cancellation policies, especially if your travel plans are subject to change.
By considering these factors, you'll be able to make an informed decision when choosing a hotel that suits your needs. Remember to plan ahead, do thorough research, and book early to secure the best rates and availability. A well-selected hotel will enhance your travel experience and contribute to a memorable stay. Safe travels!